Nanopulser PLUS
Marine Edition
In the vast ocean and unpredictable sea where nothing can be left to chance, a power outage is never an option. NanoPulser Marine is designed to enable you to take control of time and mission critical situations. Smart, innovative and
eco-friendly, NanoPulser Marine Battery Life Extender delivers reliable and consistent performance in the toughest maritime environment – every nautical mile of the way.
REVERSE, REUSE, REDUCE & RECYCLE
WITH NANOPULSER MARINE SMART TECHNOLOGY
NanoPulser Marine uses 20~50 mA of battery's energy to create a sharp but weak electronic pulse with a special dual frequency wave shape.

The special dual frequency wave shape, which is introduced to the electrode plates of the battery, creates an electrical resonant jolt (a small lightning like effect) at the tip of the sulphation crystals.
This fragments the crystal into microscopic pieces that are small enough for the regular charging process to electrochemically separate sulphation (PbSO4) crystals to lead, lead dioxide and sulfuric acid.

This makes all the component materials useful again, instead of working against the battery.Electromagnetic Interference (EMI) / Electromagnetic Frequency (EMF) Safe.
NANOPULSER MARINE EDITION SMARTTM TECHNOLOGY –
DESIGNED TO ELIMINATE LEAD SULPHATION
12V BATTERY

12V BATTERY
BATTERY CAPACITY:
18Ah-300Ah
RECONDITIONING PERIOD:
2-4 Weeks
WARRANTY:4years
SERVICE LIFE:10years
SUITABLE FOR ALL 12V MARINE CRAFTS :
Boat
Tug Boat
Jet Ski
Yacht
Offshore Vessel
Platform Supply Vessel
Nearshore Vessel
Pleasure Craft
Merchant Vessel
Liners / Passenger Cargo
Emergency Power
Heavy Equipment
Stand-by Power (UPS)
Rescue Equipment
Radio Equipment
Telecommunications
24V BATTERY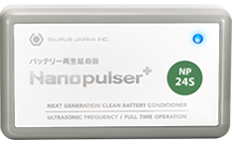 24V BATTERY
BATTERY CAPACITY:
18Ah-300Ah
RECONDITIONING PERIOD:
14-42 Days
WARRANTY:4years
SERVICE LIFE:10years
SUITABLE FOR ALL 24V MARINE CRAFTS :
Boat
Tug Boat
Jet Ski
Yacht
Offshore Vessel
Platform Supply Vessel
Nearshore Vessel
Pleasure Craft
Merchant Vessel
Trawlers
Trailer
Auto Guided Vehicle (AGV)
Emergency Power
Heavy Equipment
Stand-by Power (UPS)
Rescue Equipment
Ordnance Transport
Radio Equipment
Telecommunications
36V BATTERY
36V BATTERY
BATTERY CAPACITY:
200Ah-2000Ah
RECONDITIONING PERIOD:
1 Month
WARRANTY:4years
SERVICE LIFE:10years
SUITABLE FOR ALL 36V MARINE CRAFTS :
Boat
Tug Boat
Jet Ski
Yacht
Offshore Vessel
Platform Supply Vessel
Nearshore Vessel
Pleasure Craft
Merchant Vessel
Vertical Loader
Heavy Equipment
Stacker
Sub-Station battery
Stand-by Power
Radio Equipment
Telecommunications
48V BATTERY
48V BATTERY
BATTERY CAPACITY:
18Ah-400Ah
RECONDITIONING PERIOD:
1-2months
WARRANTY:4years
SERVICE LIFE:10years
SUITABLE FOR ALL 48V MARINE CRAFTS :
Boat
Tug Boat
Jet Ski
Yacht
Offshore Vessel
Platform Supply Vessel
Nearshore Vessel
Pleasure Craft
Merchant Vessel
Vertical Loader
Heavy Equipment
Stacker
Sub-Station battery
Stand-by Power
Radio Equipment
Telecommunications
Simple Solution For All Offshore Vessels & Marine Equipment