Nanopulser PLUS
Land Edition
When you're on the road with miles to cover and destinations to reach in time, a power outage is simply designed to enable you to take charge of any time- and mission-critical situations. Smart, innovative and eco-friendly, NanoPulser Land Edition delivers a reliable performance in the toughest
environment – every mile of the way.
REVERSE, REUSE, REDUCE & RECYCLE
WITH NANOPULSER LAND SMART TECHNOLOGY
NanoPulser Land Edition uses 20~50 mA of battery's electricity to create a sharp but weak electrical pulse with a special dual frequency wave shape.

The special dual frequency wave shape, which is introduced to the electrode plates of the battery, creates an electrical resonant jolt (a small lightning like effect) at the tip of the sulphation crystals.
This fragments the crystal into microscopic pieces that are small enough for the regular charging process to electrochemically separate sulphation (PbSO4) crystals to lead, lead dioxide and sulfuric acid.

This makes all the component materials useful again, instead of working against the battery.Electromagnetic Interference (EMI) / Electromagnetic Frequency (EMF) Safe.
NANOPULSER LAND EDITION SMARTTM TECHNOLOGY –
DESIGNED TO ELIMINATE LEAD SULPHATION
12V BATTERY

12V BATTERY
BATTERY CAPACITY:
18Ah-300Ah
RECONDITIONING PERIOD:
7-28 days
WARRANTY: 5 years
SERVICE LIFE: 10 years
For 12V Lead Acid Battery
Class: WET, GEL, AGM
Motor Car
Motorcycle
Van
Truck
Lorry
Boat
Back Up Generator
Electric Wheelchair
Emergency Power
Lab Equipment
Heavy Equipment
Heavy Transport
Stand-by Power (UPS)
Ordnance Equipment
Rescue Equipment
Aviation Comm
24V BATTERY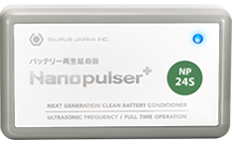 24V BATTERY
BATTERY CAPACITY:
18Ah-300Ah
RECONDITIONING PERIOD:
14-42 Days
WARRANTY:5years
SERVICE LIFE:10years
For 24V Lead Acid Battery
Class: WET, GEL, AGM
Bus
Van
Truck
Lorry
Boat
EV cars
Trawlers
Trailer
Back Up Generator
Electric Wheelchair
Emergency Power
Heavy Equipment
Stand-by Power (UPS)
Rescue Equipment
Ordnance Equipment
36V BATTERY
36V BATTERY
BATTERY CAPACITY:
100Ah-2000Ah
RECONDITIONING PERIOD:
1-2 Month
WARRANTY:5years
SERVICE LIFE:10years
For 36V Lead Acid Battery
Class: WET, GEL, AGM
Boat
EV cars
GolfCart
Forklift
Trawlers
Trailer
People Mover
Back Up Generator
Electric Wheelchair
Emergency Power
Heavy Equipment
Stand-by Power (UPS)
Rescue Equipment
Ordnance Equipment
48V BATTERY
48V BATTERY
BATTERY CAPACITY:
100Ah-2000Ah
RECONDITIONING PERIOD:
1-2months
WARRANTY:5years
SERVICE LIFE:10years
For 48V Lead Acid Battery
Class: WET, GEL, AGM
Boat
EV cars
Trawlers
Trailer
Forklift
Vertical Loader
Sub-Station battery
Railway Equipment
Back Up Generator
Electric Wheelchair
Emergency Power
Heavy Equipment
Stand-by Power (UPS)
Rescue Equipment
Ordnance Equipment
Simple Solution For All Land Vehicles